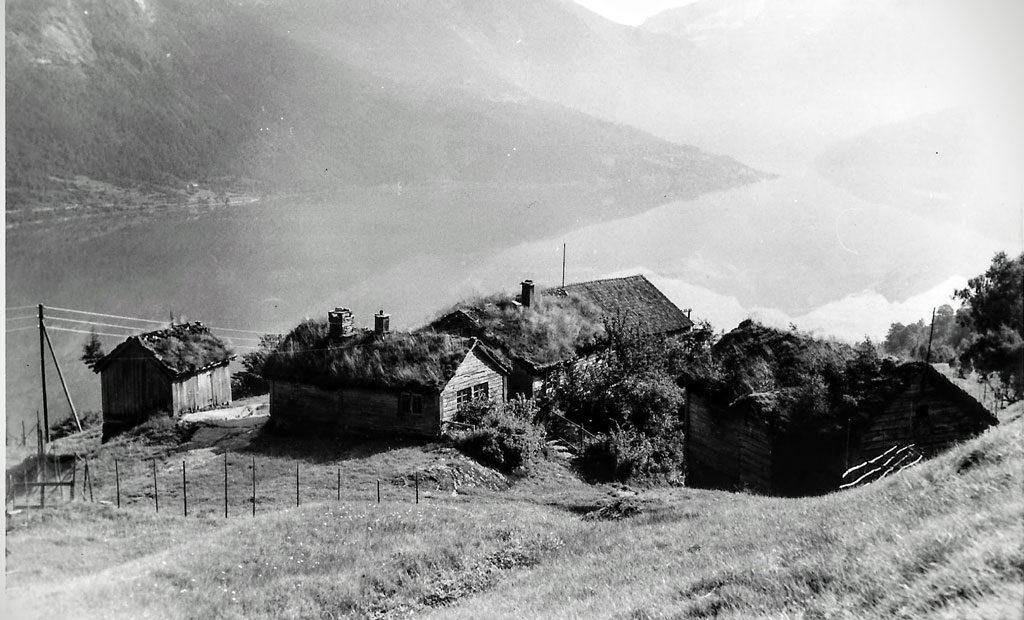 How many days is enough in Norway?
Norway is a wonderfully welcoming country. It's packed with enormous glacial mountains, deep turquoise blue fjords, diverse cultures, interesting history and varied nature. Home to nearly 5.5 million people and, including the fjords, has a coastline of over 25,000km in length! Question is; How many days is enough in Norway? It's a common question, so Discover Olden is here to the rescue! We'll cover what to do in Norway if you have a 1-day stopover or a long backpacking trip planned. We recommend a minimum of 5 days to really explore and delve into what Norway has to offer. If you have less time than that, don't worry – there's still lots you can see and do.
Obviously, there is no one-size-fits-all trip to anywhere as everyone has different requirements and expectations. We can only hope to provide suggestions to a potential itinerary to encourage others to go to Norway. So please, take away some of our tips and preferences and most of all – enjoy!
Anyone with a short amount of time should spend it in the Norwegian capital, Oslo. Oslo is a bustling city with museums and restaurants that are worth visiting and can keep you entertained. If you are looking to get away from the city,  you can reach the Oslomarka (the Oslo forest). In under half an hour on public transport, you're there and it's a perfect escape from the busy city life. During the summer months there are numerous walks, hikes, kayak tours and kayak rentals. And in the depths of winter, you can strap on the skis, skates or snowboard! Check WildOslo.com
The forest is protected from most development forms and is essentially untouched. This reflects in the wonderfully preserved wildlife as it is the home to some of Norway's most famous animals. You may see the beaver, moose and roe deer. If you are extremely lucky you see the elusive lynx and wolf. Don't forget the camera!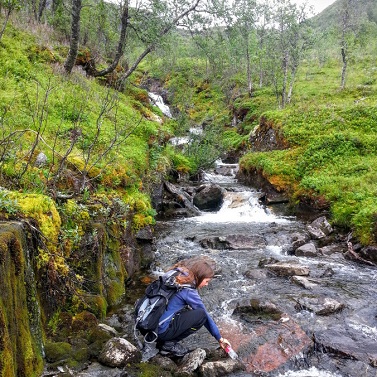 City Center Oslo - places to visit during your stay
Once back in Oslo, take some time to explore. You should pay a visit to the museum island of Bygdøy. It's home to tourist favourites like the Viking Ship Museum and the State Gallery. The Royal Palace is another must see; built in 1824, this relic is open for public tours in the summer months. It's the home of the King and Queen of Norway. 
Oslo also boasts a number of fantastic restaurants. Be ready to whet your appetite for interesting and authentic Norwegian cuisine and a cocktail or two. From Michelin star to McDonald's, it has it all. Trust us when we say that the cuisine here rivals the top European cities — or maybe you'll just have to find out for yourself. The reigning champion to date is Maemo, having recently received its 3rd Michelin star. Kontrast and Statholdergaarden are two other worthy contenders, each holding 1 star of their own. 
Worried your budget won't stretch to that? Not to worry — we have you covered with some more budget-friendly options as well. Head to Oscar's Pizza in Teaterplassen for some delicious pizza..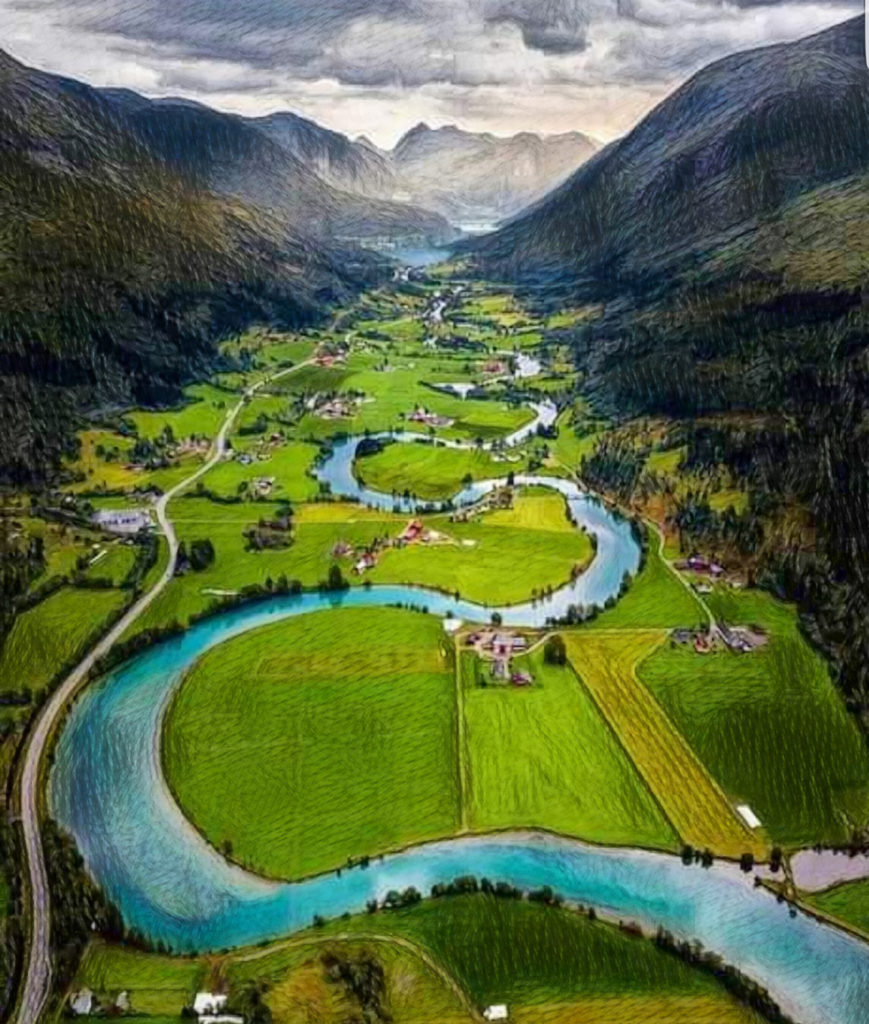 3 to 5 days stay in Norway
For those with a little more time and a view to escape the city, – head over to Bergen. What are some things to do in Bergen, you ask? This quaint, pretty little town is a perfect location to really gather a sense of what Norway life is like outside a fast-paced city. Along the town's waterfront, it's dotted with the famous colourful wooden houses and the gateway to the famous Norwegian fjords.
Nestled on glacial waters, it can get pretty packed during the summer months with numerous Norwegian fjord cruises docking up. In just one day, you can walk along the historical wharf and grab some photos of the famous wooden houses. Don't forget to eat at the popular fish market! In the evening, be sure to take the Ulriken cable car for the sunset and explore the highest of Bergen's 7 mountains. 
For those looking for some Winter Olympic history, a 2.5-hour drive north from Oslo will take you to Lillehammer. A small ski resort town, Lillhammer is home to Hafjell ski resort, Norway's third largest and perfect picturesque resort! Delve into the Lillehammer 1994 Winter Olympic history with a visit to the exciting and modern Olympic museum. Staying a few days there? An hour's drive north is the beautiful Gudbrandsdalen Valley, and home to the Peer Gynt festival — it's said to be Norway's largest cultural festival! 
How many days is enough in Norway? With about a week to explore, we're in the realms of really discovering what Norway has to offer. After spending a day or 2 in the cities and smaller towns, it's time to head out into the fjords and immerse yourself in natural Norway. Olden is a quiet village situated at the mouth of the River Oldeelva and sits at the end of the 66-mile Nordfjord. This pretty little village is renowned for its Norwegian hospitality, natural beauty, and the many wonderful things to do. 
The winding, peaceful valleys meet colossal glaciers and crashing waterfalls, all set against the beautiful backdrop of towering mountains. It's also the doorway to the Jostedal Glacier, Europe's largest mainland glacier. Reset your mind and kayak out onto the peaceful glacial lakes, or explore the Norwegian wilderness and take a trip guided by locals up into the deserted mountains and enjoy some local cuisine! If you're looking for more information on this area, check out our Olden Norway destination guide.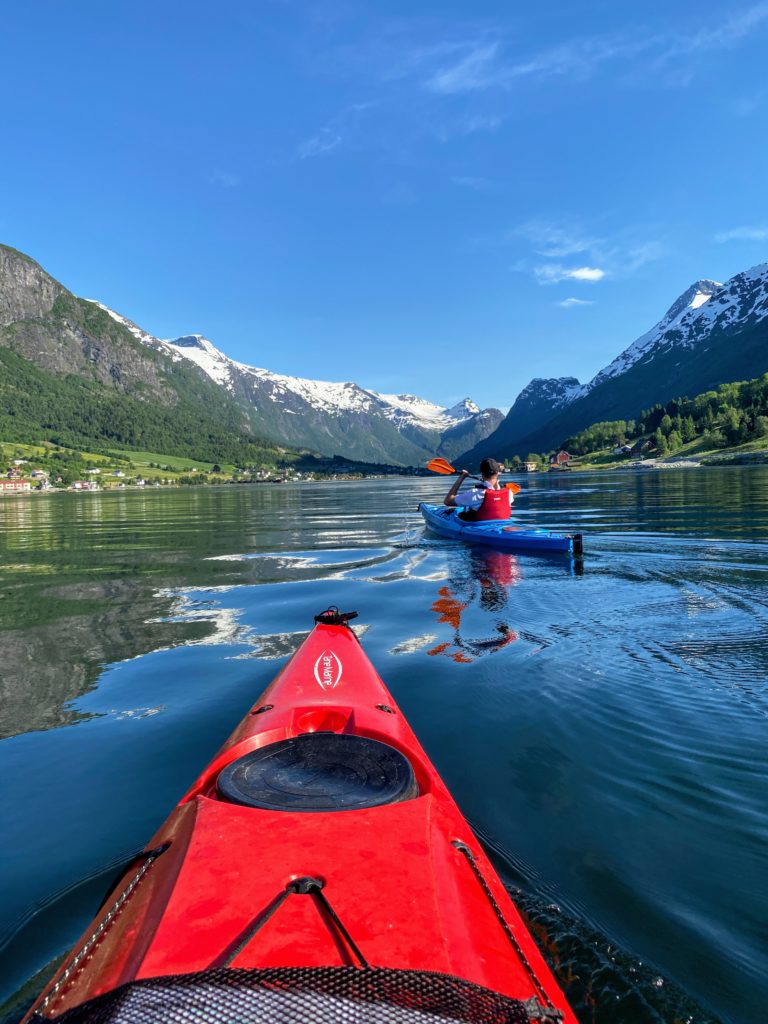 Another recommendation of ours is to venture further north still and explore Alesund. It's a port town situated on the west coast of the country and is also the entrance to the Geirangerfjord. It's famous for its distinct Art Nouveau architectural style that was implemented after a catastrophic 1904 fire forced this town's people to rebuild. Visit the Jugendstilsenteret museum and find out how the town rebuilding itself created one of Europe's most characteristic architectural environments! 
If you do decide to visit Alesund, you can't miss the atlanterhavsparken. It's an Atlantic aquarium filled with a wide variety of marine life, including creatures of all habitats, from the inner fjords to the wild Atlantic. See some of Norway's largest fish, watch the penguins chow down on lunch or catch some crabs in the live tanks! 
With a 2-hour drive east, you'll find Trollstigen (the trolls road), one of the most famous national tourist routes in Norway. This famous road snakes its way through 11 steep hairpin bends to a casual 858 metres above sea level. The views from the top are breathtaking and cannot be put into words… so you'll just have to head there to check them out for yourself.The drive squeezes endless jagged mountain peaks, glacial mirror-like fjords and cascading waterfalls into it — all ready for the camera!
How many days is enough in Norway? For those lucky enough to have the gift of time on their side, head out to the remote locations and really explore Norway. The Lofoten Islands, an archipelago off the coast of mainland Norway, are absolutely breathtaking and famous for their dramatic scenery. With activities ranging from hiking to skiing to surfing and colourful fishing villages at every turn, you may want to consider moving there permanently! 
Wondering how to get there? Numerous airports throughout Norway have flights out to the islands, but the most exciting way is to hit the high seas and take the ferry. Just inside the arctic circle, the crossing on the ferry from Bodø can be rough, even in summer, but the views are spectacular. It's doable by car and a Norway road trip, which of course is accompanied by incredible scenery, but the price can mount up. We recommend spending 3 days on these unique islands to really appreciate what they have to offer. 
The takeaway: How many days is enough in Norway in order to properly discover the country?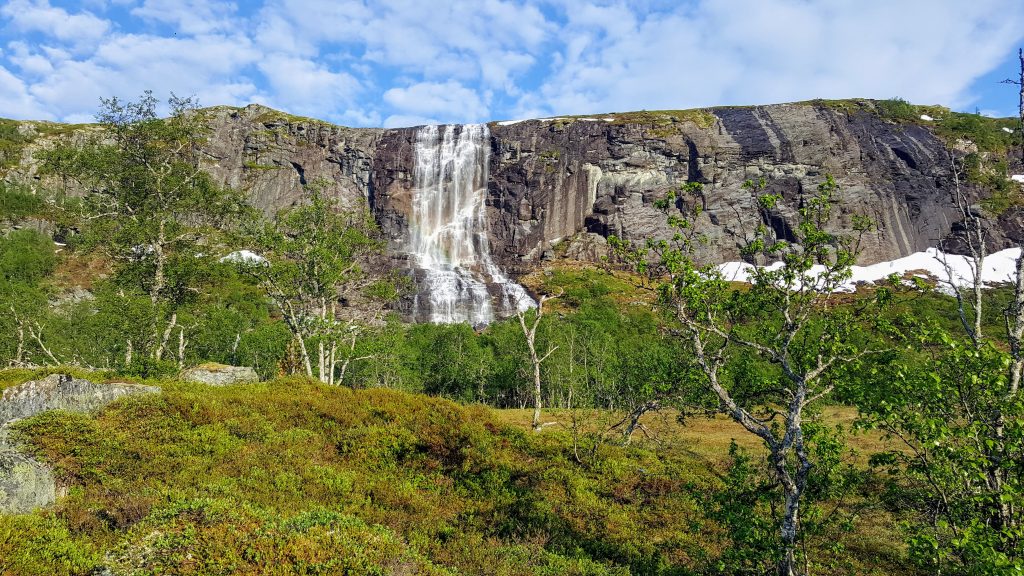 Our final advice is to weigh up your time here and target what really takes your fancy. If you're visiting for a short time, use Oslo as a base; take your time to explore the city itself and use its location to your advantage by taking day trips out from the city. Those with more time, head north or west, visit the small villages and towns and discover the unique Norwegian culture. There is no perfect answer to How many days is enough in Norway? However, we would recommend staying in each location for 2-3 days, giving yourself sufficient time to enjoy each of the wonderful locations.